Representatives of the seven SeeWandel partner institutions at the Kick-off Symposium "Cooperation RTG R3 – SeeWandel" at the University of Konstanz (21st of February 2018).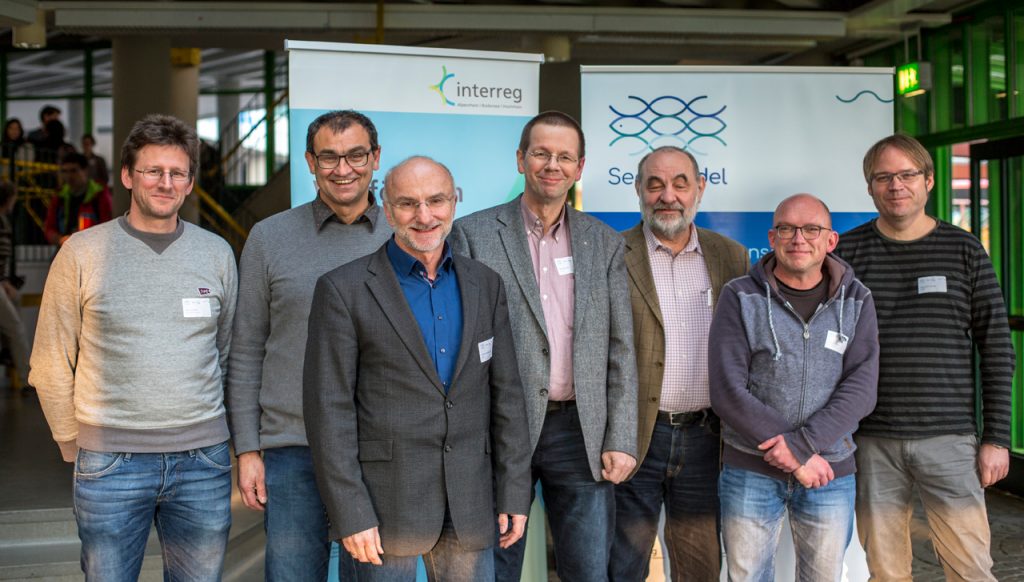 (left to right.) Markus Möst (Uni Innsbruck), Klaus Schmieder (Uni Hohenheim), Harald Hetzenauer (LUBW), Piet Spaak (Eawag), Karl-Otto Rothhaupt (Uni Konstanz), Thomas Posch (Uni Zurich), Alexander Brinker (LAZBW)
Photo: SeeWandel
Miscellaneous publications/reports
Scholz B & Gugele S (2018)
Seewandel und RTG – zwei Forschungsprojekte für den Bodensee im globalen Wandel.
Aquakultur- und Fischereiinformationen aus der Fischereiverwaltung (Informationsschrift der Fischereiforschungsstelle, des Fischgesundheitsdienstes und der Fischereibehörden des Landes Baden-Württemberg) Rundbrief 1/2018.
Movie clip on fish farming of the Fisheries Research Station Baden-Württemberg (Fischereiforschungsstelle des Landes Baden-Württemberg, FFS-LAZBW)
Forschen, Fördern, Schützen! Die gegenwärtige Vielfalt in unseren Gewässern erhalten, Fischzucht fördern, Zukunft sichern.