SeeWandel Closing Event 13/14 June 2023, Konstanz (Germany)
After 5.5 years, the Interreg research-project "SeeWandel: Life in Lake Constance – the past, present and future" is coming to an end. Time to present and discuss the project results, exchange ideas and take stock. We invite you to discuss together pre-alpine lake ecosystems and to present your research at the scientific symposium on 13 June 2023. 14 June 2023 is dedicated to the exchange with practice representatives.
Fourth SeeWandel fact sheet published
The three-spined stickleback (Gasterosteus aculeatus) was probably introduced into the Lake Constance system in the late 19th century, first recorded in the lake in 1951, and has been colonising the open water since 2012. Information on possible ecological and economic consequences can be found in the new fact sheet.
Third SeeWandel fact sheet published
The fish stocks of Lake Constance have been undergoing major changes since the 1950s. Find out more about the complex fish ecology in different parts of the lake and water depths in the new fact sheet.
Second SeeWandel fact sheet published
Within a very short time, the newly immigrated alien quagga mussel has spread in Lake Constance and pushed back the alien zebra mussel. Find out whether the ecosystem of Lake Constance is threatened with massive consequences in the new fact sheet.
First SeeWandel fact sheet published
In 2016, an algal bloom (mass reproduction) of the Burgundy blood algae occurred in Lake Constance for the first time. Find out in the new fact sheet whether the Burgundy blood algae will henceforth be a dominant inhabitant or rather a rare guest in Lake Constance.
State Garden Show in Überlingen
SeeWandel is represented at this year's State Garden Show in Überlingen ("Landesgartenschau Überlingen"). Visit our exhibition from 15 to 26 September 2021 in the "Pflanzenhaus" ("Villengärten"). We look forward to seeing you.
Experience research up close – We invite young and old to join us on a voyage of discovery. Be enchanted by the underwater world of Lake Constance! Meet researchers involved in the SeeWandel project in person and learn how science really creates knowledge. A varied programme invites you to experience and try things out.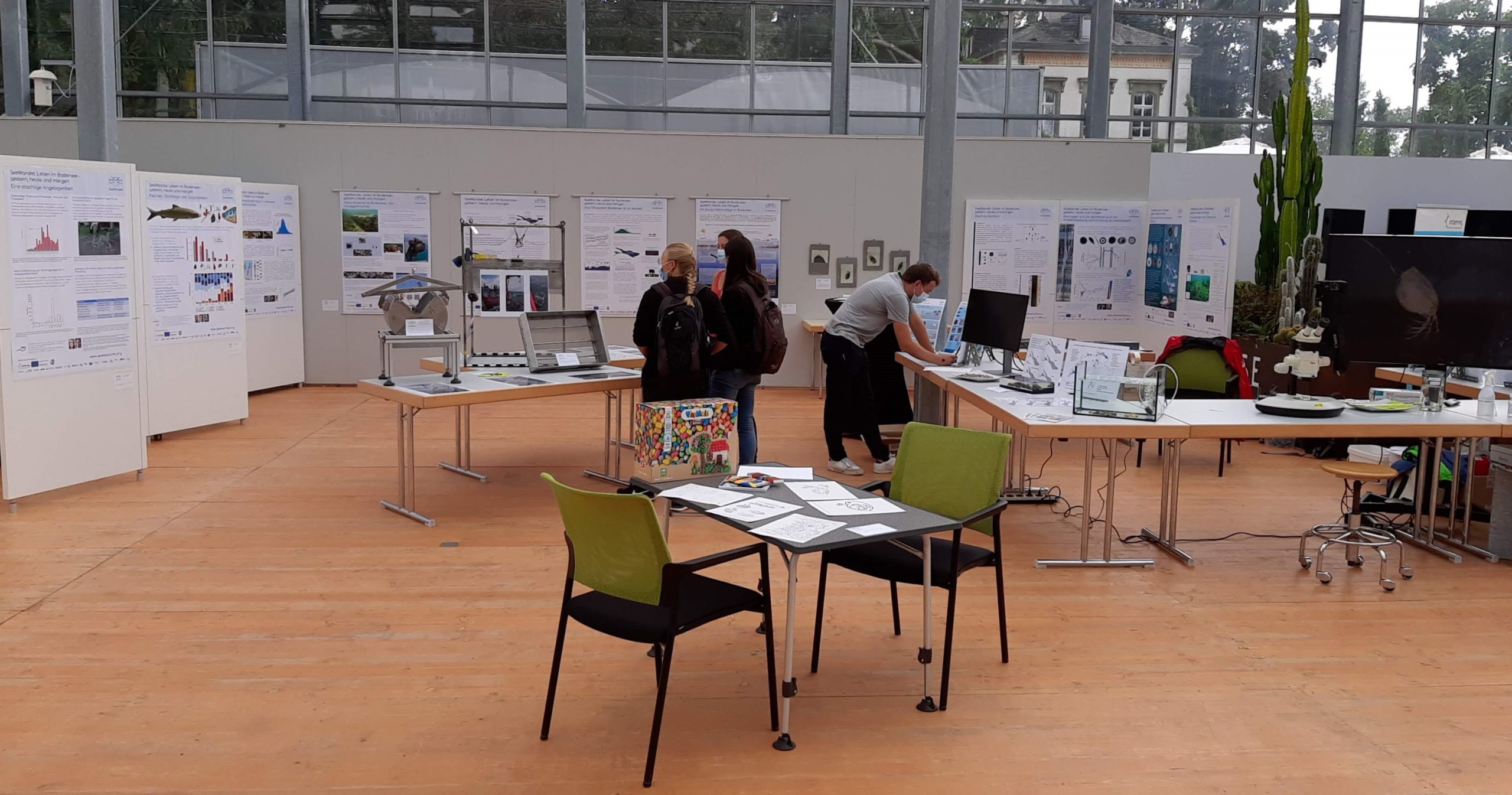 Exhibition impressions. © Photo: SeeWandel

Markus Möst from Innsbruck, one of the seven SeeWandel project partners, has won the prestigious Austrian Research Award "START" for his research on the influence of global change on aquatic ecosystems. This prize is worth a total of around 1.2 million euros and is awarded by the Austrian Science Fund FWF. This excellence funding will enable Markus to continue his research in the coming years. In his project "Ecoevolutionary Dynamics – Gene Flow and Global Change" he will continue to work on the questions and topics addressed in the SeeWandel project. The entire SeeWandel team congratulates Markus Möst on this well-deserved milestone.